Jeremy and I have begun geocaching. So much for free time! haha. We love it! This is just going to be my own simple log of our geocaching, what we've seen, where we've been, etc. No bells and whistles. Hope you enjoy!


Click on the logo to go to the geocaching web site. It's free, and is even fun for the whole family to go out and do together. Come on ... who didn't dream of searching for hidden treasure as a kid?
---
June 23, 2006 - We tried our first geocache. We hauled Dante out into the desert with us in 101º weather. BIG mistake! Not only did we not find the geocache and NOT bring water with us, but poor Dante just hit a few points where he actually refused to continue. I don't blame him. I felt like doing the same. Geocaching was off to a rough start for us.
June 24, 2006 - We started off that morning trying to find the cache we didn't find the night before (Dante stayed home today in the a/c). We figured out that, rather than hiking up the dry burning hot sagebrush-filled hill for 1/2 mile, we could actually drive up to a closer point, which we did. Still did not find the damned cache, though! Caching was getting less fun. 93º by 10:30 a.m.
We tried to find another on our way to Starbuck's, and couldn't find that one, either! I was beginning to think that either we sucked at this, it was all some plot and geocaches didn't really exist, or that this was much harder than I'd originally thought (or all 3). We went off to Starbuck's, then tried some other "easy" caches. Thankfully, our luck changed. :)
GCPBTP - "Hobo Hot Springs Cache" - N 39° 03.771 W 119° 47.181
This was our first find. Crappy photo because it was hard to shoot in the location in which it was found. :)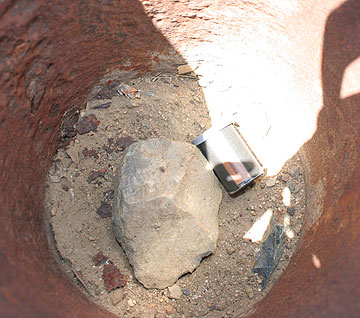 ---
GCRG58 - "Up Or Down" - N 39° 02.529 W 119° 43.640
Our second one was one of the few (so far) that I found before Jeremy. Can you see it?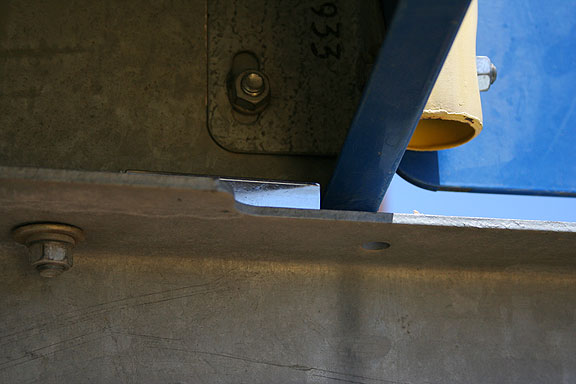 ---
GCPBTM - "AstroDeers" - N 39° 00.913 W 119° 44.675
This was the most cleverly-named one we've found so far. Those of you who are familiar with the Johnson Lane area, the description for this one said: "Located near one of only three such locations in North America. This particular one distributes it's product to the Southwestern United States...Texas to Colorado to California. All from Douglas County, NV." Think about it, and then think about alternate names for "AstroDeers" :)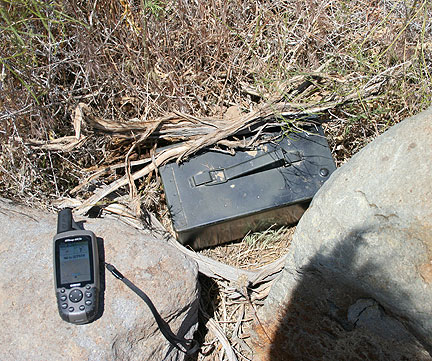 This cache had a "Travel Bug" in it, which is a special dog-tag-style item that is usually clipped to something (keychain, for example) and has a "goal", like to travel from east to west, to make it to a specific state and back, to make it overseas, etc. When you take a travel bug, you are supposed to redeposit it into another cache that will help it reach its goal within 2 weeks. We took the "Tigger Keychain" travel bug from this cache and took it to California the next day (as its particular "goal" was just "to travel around", and it had not been to California yet).
---
GCP8YM - "The Three Pyramids Cache" – N 39° 03.759 W 119° 28.664
By this time we'd had enough geocaching success to believe that we now knew how to properly "look" for the items, so we headed out on the trek to the really remote and difficult one: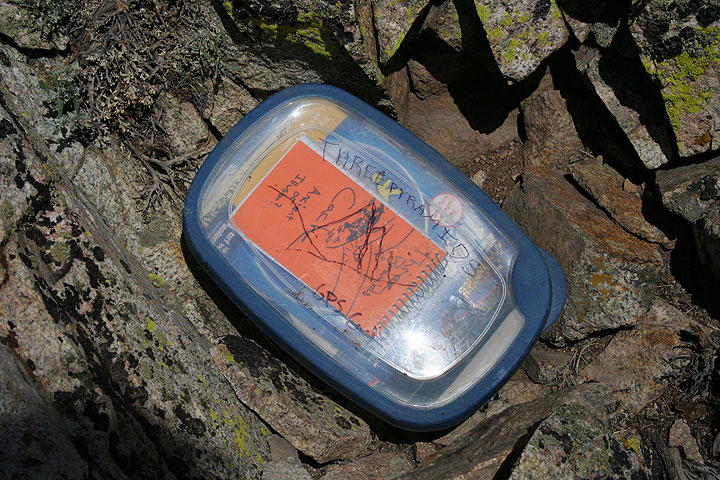 This one was covered by another rock, so tough to see. The scenery was incredible!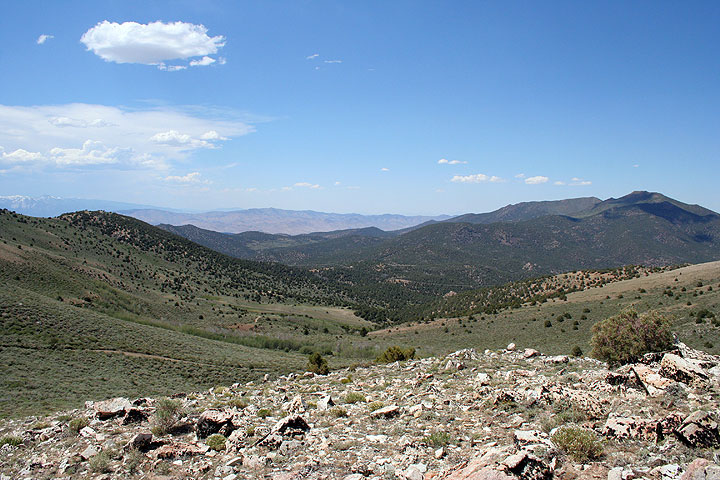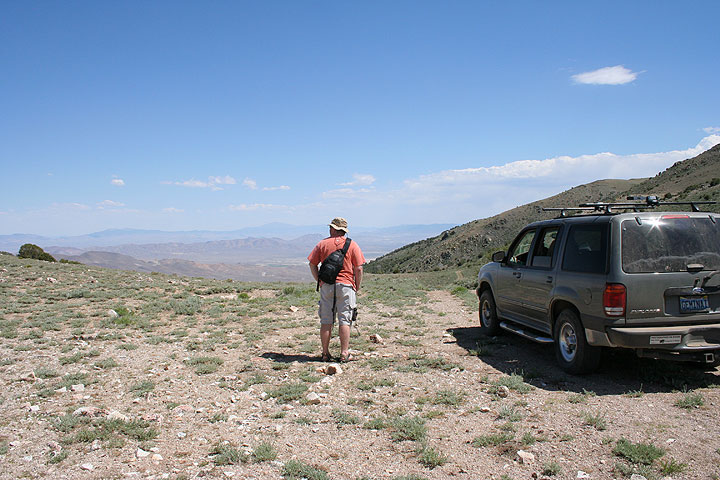 Jeremy, surveying the land.
---
GCN1DA - "The American Way" - N 38° 45.000 W 119° 26.286
Luckily, while we were looking for this one, we knew to really thoroughly check each sagebrush before reaching in. This bull snake was wrapped all around the center of a large sagebrush, and to say he was displeased with our presence is probably an understatement!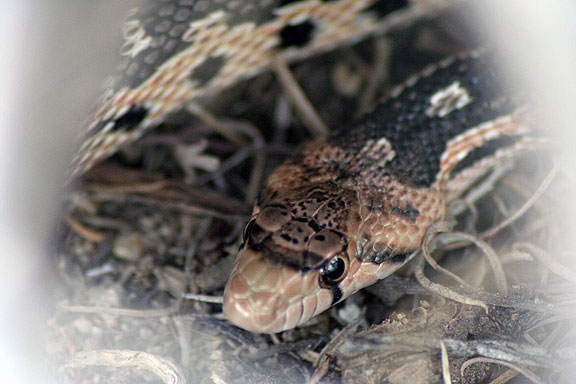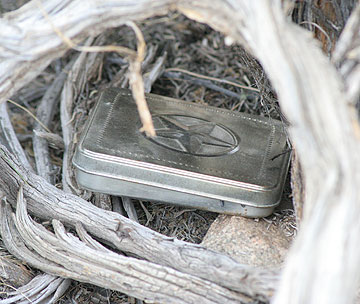 ---
GCN1DC - "Hardly A Detour" - N 38° 44.898 W 119° 34.083
This one was damned hard to find! You had to be a gymnast, just about.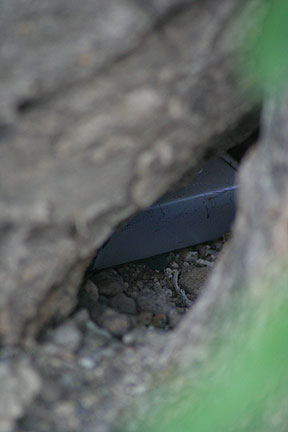 ---
GCRKXM - "Hilltop" - N 39° 05.909 W 119° 46.454
This was the 2nd geocache we'd been unable to find earlier that day. Now that we were more confident that we knew what to look for, we went back, and sure enough, found it. I took this photo to show the cache, but it was actually clipped to the other side, therefore un-noticable to any passerby.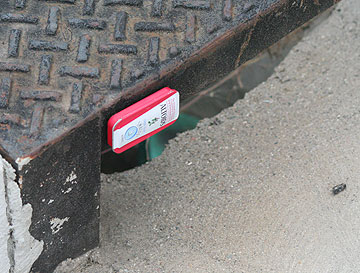 ---
GCTH2N - "Urgent" - 39° 05.421 W 119° 46.468
This looks like it's out in the open, but Jeremy is suspending something in the air in order to get this shot.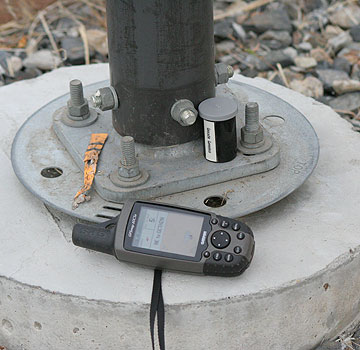 ---
GCP3QC - "Welcome Keira!" - N 39° 05.557 W 119° 46.214
This one was in a park and the description was precious: "This cache was placed in honor of my niece, Keira, who was born today. Welcome to the world, Keira. When the time comes, uncle will bring you caching! I've placed this cache in a place I'm sure you'll enjoy."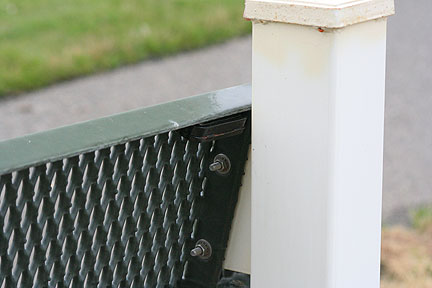 ---
June 25, 2006 - Once again, we visited the very first cache we'd not been able to find either day. After a prior day of near-100% success rate, we were confident we'd find it this time. And find it, we did! Highest temp today, 109º.
GC2A5O - "Hot Springs Mountain Cache" - N 39° 03.760 W 119° 44.140
It was hard as hell to see, as you can see by the 1st photo. The 2nd was taken with the top rock removed.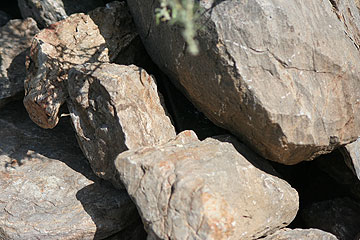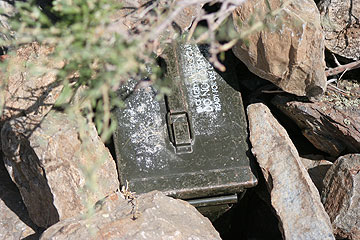 ---
GCQDMD - "Best Friends Cache" - N 38° 43.665 W 120° 46.548
We stopped at this one to deposit the "Tigger Travel Bug" we'd found at "AstroDeers" the day before. We took it to this one, since it was originally placed by GeoTigger. :) We figured that was appropriate.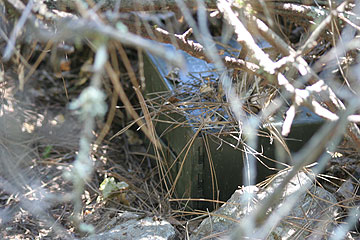 ---
June 28, 2006 - On our way to take Dante for a walk at the park, we grabbed a quick cache, but I forgot to photograph it, so, photo coming later!
GCKT6H - "Mexican Ditch Cache" - N 39° 09.457 W 119° 43.044
---
July 3, 2006 - After work we picked up a quick cache. We were hoping to be "First To Find", since it was published just that day, but no such luck!
GCWYBH - "Ghoti Factory" - N 38° 53.364 W 119° 41.875
---
July 4, 2006 - We celebrated our Independence Day by geocaching! We had a ball!
GCWYWO - "Golden Gate Mine Cache" - N 38° 30.838 W 119° 31.89
This was near a really cool old gold mine!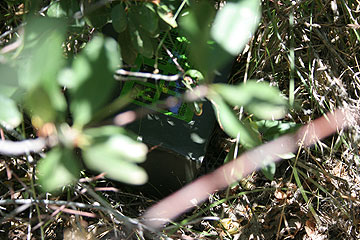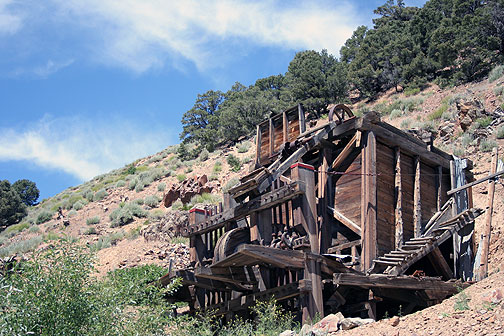 ---
GCJZGM - "Golden Gate Off 395" - N 38° 30.774 W 119° 32.060
And then, just a little ways up the hill, this was our view ...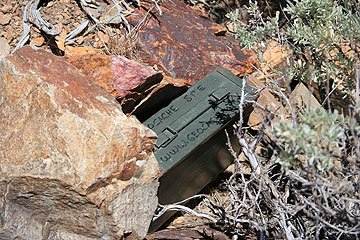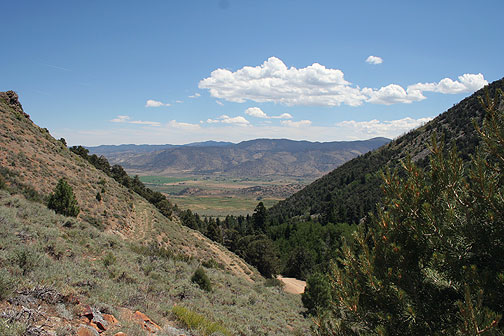 ---
GCHZEZ - "Monitor Cache" - N 38° 38.510 W 119° 31.849
Next, on to one of our favorite areas ... Monitor Pass!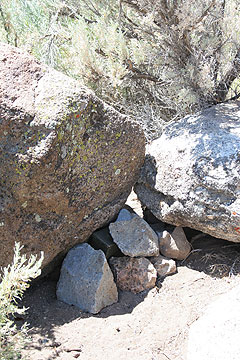 ---
GC60B7 - "Ridge Top Views" - N 38° 39.657 W 119° 35.202
And then, on up the hill ...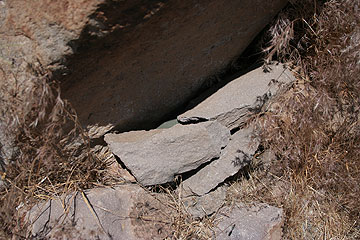 ---
GCJDY8 - "Lakeview Too" - N 38° 42.773 W 119° 33.472
Next, we headed down to 395 again, and caught one close to Topaz before stopping for lunch.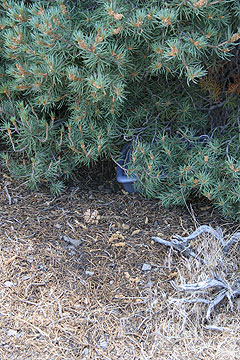 ---
GCJ6BV - "Jacks Right" - N 38° 44.899 W 119° 24.373
After lunch, we headed over to Wellington to start our heavy-duty offroading. Boy oh boy, did we get dusty! But we found some great caches and some FANTASTIC scenery!!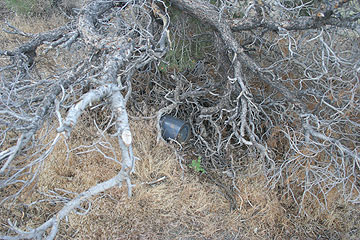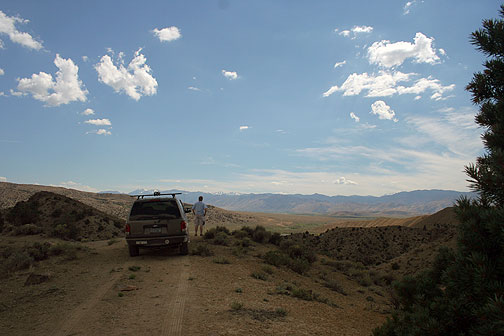 ---
GCKBC5 - "Overlooking Topaz - A Desert Gem" - N 38° 35.638 W 119° 26.843
We then took Eastside Lane (don't let the name fool you .. it is a big, loooong dirt road) and were once again not disappointed with the scenery!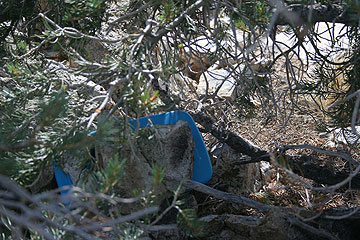 But just look at the view!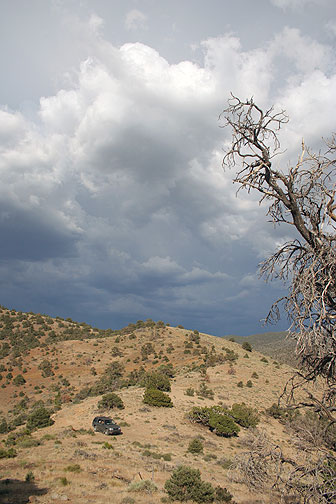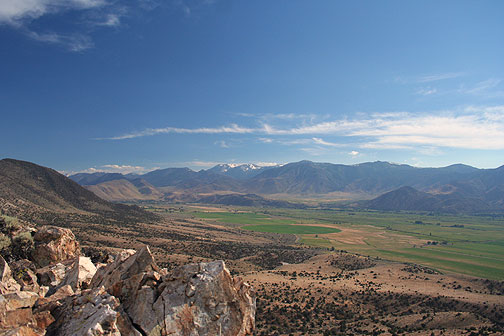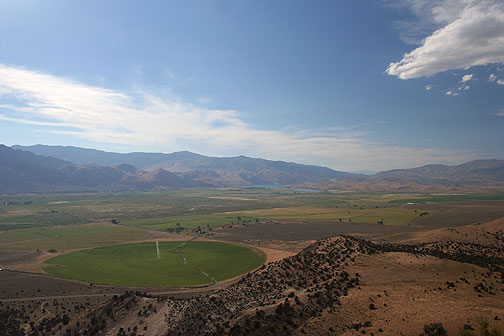 ---
That was the end of our 4th of July. More to come soon!